How Well Do You Know
Your House Plants?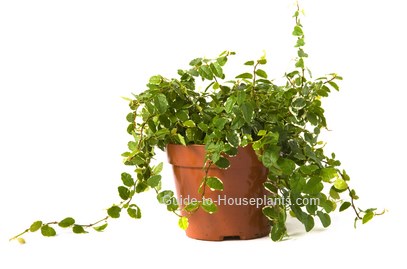 Have you ever despaired over crispy ivy? Or wondered what it takes to get a cactus to bloom?
House plants can seem like a mystery if you don't know how to care for them.
With information now at your fingertips, it's easy to find out about your plant, discover what it needs, and get the most out of it.
I promise you'll be rewarded with a healthy, thriving plant that's a source of pride and joy for years to come.
Everything you need is here in this
user-friendly house plant guide:
What's Hot
Bring on Spring!
Who says we have to wait to enjoy beautiful flowers? Even when there is nothing in bloom outdoors, it's a cinch to bring a fresh splash of color to any every room.
Spring has already sprung in florists shops everywhere. You'll find the sunny trumpet-shaped blooms of mini daffodils popping up along side tulips and fragrant hyacinths.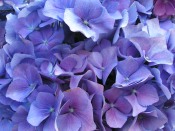 Mophead hydrangea boasts dazzling blue flower clusters, making it a favorite house plant.
Add some fragrance with a creamy white gardenia and charming winter-blooming jasmine. Train jasmine to climb a small trellis to show off its starry white flowers.
Want more ideas? Get your "flower fix" by thumbing through plant catalogs. You'll soon be dreaming up a plan for a whole year of flowers.
Are You Game?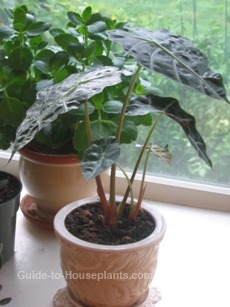 Why not go wild with some exotic plants? Animal patterns and textures are anything but tame.
Rule the plant kingdom with tropical Elephant's Ear (shown at left). Its scalloped green leaves are beautifully marked with silvery white stripes, giving this plant a commanding presence.
Furry rhizomes make the Rabbit's Foot Fern an eye-catching accent. Put it in a hanging basket to show it off. You'll also want to hang up the Staghorn Fern for all to admire. One look at its big, antler-like fronds and you'll know where it got its name.
In the tropical rainforest, the Zebra Plant thrives in high humidity. Set it on a humidity tray and you'll help it thrive indoors. Striking foliage and bright yellow flower spikes make this Brazilian native spectacular in the home.
Yellow blooms with reddish-brown stripes lend Tiger Orchids their ferocious name. Keep this orchid happy, and you'll enjoy those exotic flowers a long time.
Gimme Shelter
One of the biggest challenges house plants face in the cooler months is dry air.
Closed-up houses and hot blasts from heating vents often cause indoor humidity to plummet in winter, turning lush tropical foliage into brown, withered, crunchy leaves. Okay, it may not be that dire, but there is a beautiful solution to maintaining moisture around your plants in winter.
Place your ferns, bromeliads, and other tropical plants in a Wardian case and they'll be surrounded in humidity, away from cold drafts and heat vents.
Stay Up to Date
Guide-to-Houseplants.com is all about getting to know your indoor plants so you can bring out their best.
My hope is that it will give you an easy-to-use resource -- a place to turn when you need quick solutions, helpful how-tos, and maybe inspiration to grow something new.
Pages and tips are added all the time. Subscribe to my blog and you'll always be the first to know about new features, articles and updates.
Enjoy your visit!