Indoor Plant Hangers

Want to showcase your favorite house plant? Decorative indoor plant hangers offer quite a few options for hanging plants in your home.
Leafy, trailing vines sometimes get over-shadowed in a grouping -- but they don't have to. With a little imagination, you can show them off in a new way by hanging them high for all to admire.
Even small, upright plants can hold their own if they have the right altitude. Hang them at eye-level to appreciate their beauty close-up.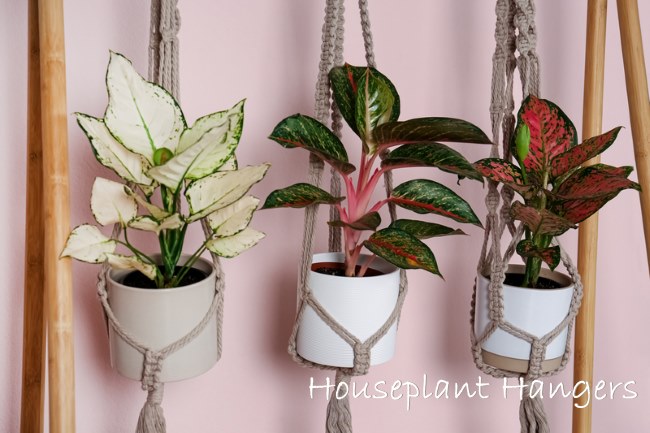 Macrame plant hangers are stylish in groupings. Photo credit: Chernetskaya/Dreamstime
Macrame Plant Hangers
Remember seeing these knotted plant holders hanging around living rooms and dorms in the '70s?
Well, these retro Macrame Hangers
have made a comeback. (Did they ever really go away?)
Made from heavy woven cord, macrame knots are not only decorative, they're actually quite strong. And perfectly sized for your trailing house plants.
Be hip. Be the first on your block to get one. (Again.)
Easy to use, low-cost, light-weight. They're available in several colors and studded with wooden beads. Groovy.
Brass Geometric Hangers
Suspended from thin brass chains, this elegant pair of Brass Geometric Hanging Plant Holders
add charm to your houseplants...and your home.
You'll treasure these indoor plant hangers for years. They're beautifully crafted of brass-plated iron and include brass pots. Hang them together for a stunning display.
Upside-Down Planter
Give your plants a lift and add color to any space with the clever Upside-Down Planters
.
Smart space-saving pots are watered from the top with a water reservoir. Ideal for trailing plants.
Made of white recycled plastic.
Includes ceiling hook, extension wire and all the how-tos.
Indoor Plant Hanger Tip
Choose a container with an attached saucer to catch drips. That way, you can water indoors without fear of damaging your floors and furniture. Many plastic and ceramic containers have attached saucers.
What about those decorative containers that don't have drainage holes? Use them as cachepots. Slip a plain nursery pot with drainage holes inside the decorative container. Place some pebbles in the bottom of the cachepot to keep the pot above any standing water that drains out. I do this for some of my house plants and it has the added benefit of adding humidity around my plants.
Self-Watering Planter
This Self-Watering Hanging Planter
waters your houseplant for you. Never over- or under-water your plant again.
Inner pot is about 6-inches in diameter, and is removable for easy planting.
Light-weight and durable, this modern egg-shaped planter makes a stylish accent for your indoor trailing plant.
Airplant Holders
The modern geomtric design of these Hanging Air Plant Holders (Set of 2)
makes your beautiful air plants viewable from any direction. And the open sides give them the air circulation they need.
Chains are included to make it easy to hang them up in any room.
You get a set of 2. Check them out.
Don't Hang Your Plants Out to Dry!
Plants grown in hanging baskets tend to dry out fast. Because heat rises, the air is warmer and drier near the ceiling...and that affects your plants.
Check the soil often and don't allow it to dry out. Flowering plants, especially, and ferns like constant moisture.
Set of 2 Indoor Plant Hangers
Adding a flourish to any room just got easier. Leave it to the Ceramic Hanging Planters (Set of 2)
to add instant style.
Simply insert nursery pots with your favorite tropicals or succulents. It's best not to mix them because they have different light and watering needs.
Or try this: fill these ultra-modern pots with holiday greenery or seasonal plants. Your planters can be as unique as you are!
Metal Cube
Give a houseplant a new dimension.
Suspend your smallest plant in this ultra-modern Metal Cube Frame with Ceramic Pyramid Planter
.
You can remove the ceramic planter for easy watering.
An adjustable chain is included for displaying your new cube indoor plant hanger.