May 07, 2019
Sun-Lovers for Your Patio
Pot up some sun-loving plants for your porch or patio that are sure to turn heads.
Vibrant flower clusters of Ixora and Lantana are sure to garner attention from all who see them. They're attractive to hummingbirds and butterflies, too.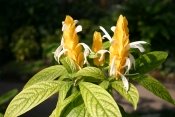 Give Golden Shrimp plant (shown here) a sunny spot and enjoy their brightly colored flower spikes all summer. And Geraniums add a splash of color to your patio table.
You'll love the big, ruffled blooms of the Hibiscus flower. Bold colors lend a tropical touch wherever you display them.