House Plant Pots and Containers

Your options for house plant pots and containers are wide. Just about any box, basket, pot or dish is a possibility for plants.
Whatever its size or shape, your container must have drainage holes in the bottom to allow excess water to escape.

If you want to use a decorative container that doesn't have drainage -- often called a cachepot -- you can slip a plastic container with holes inside the cachepot. I use pebbles in the bottom of cachepots so that the plants are not sitting in drainage water.
Choose a container that not only complements your decorating style, but suits your plant as well. Climbing plants like bougainvillea, hoya and jasmine need support. Put your climbers in a trellis planter to show them off.
Does size matter? You bet. The container should be proportionate to the plant. Basically, you should choose the smallest container that will accommodate the roots of the plant. Moisture will be absorbed quickly in a small pot, preventing it from getting waterlogged. A too-large pot will retain too much water.
Plastic Pots
Plastic house plant pots are light-weight and low-cost, making them a popular choice for indoor gardeners.
They're time-savers, too. Since plastic pots are not porous like clay, soil will retain moisture longer and your plants will need watering less often. There is one hitch, though. Because air cannot circulate through plastic pots, you'll want to use a potting mix that drains well.
Many plastic house plant pots have snap-on trays, which do a great job of catching water that drips from the bottom of the pots -- a must-have feature for hanging baskets.
Since self-watering containers hit the scene several years ago, they've come a long way in form and function. They truly cut down on watering chores and are worth seeking out.
Terra Cotta Pots
Simple clay flower pots come in just about every size and depth. They're inexpensive and easy to find at garden centers and nurseries.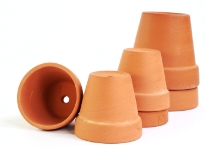 These clay pots also have drainage holes -- a must -- to prevent the plant from becoming waterlogged. Just be sure to slip a saucer under the pot to catch any drips that come through the bottom.
Another big advantage of terra cotta is that it's porous, allowing moisture to evaporate from the soil so that roots can get the oxygen they need. New terra cotta pots are so dry that they can steal water from the soil you put in them, leaving the plants thirsty. It's a good idea to soak the pots overnight before planting in them.
Be aware that a plant in a porous clay pot will need watered more frequently than one in a plastic or glazed container. This type is ideal for house plants that don't like a lot of moisture in the soil, such as cacti and other succulents. In fact, I can't imagine planting a cactus in anything else.
House Plant Pots and Planters for Sale
Green Ceramic Pots
Add a splash of color with these Green Daisy Burst Design Ceramic Pots
. Just a scant 5" this set of two is ideal for your smallest tropicals, succulents or flowers.
Attached saucers catch drips to protect your furniture. Let these beautifully glazed ceramic pots bring charming garden style into your home.
Hibiscus and Daisy Planter
New! Give this Wedgewood Blue and Brown Hibiscus and Daisy Planter
a special spot in your home.
Made of glazed pottery with an ornate floral design, this planter is a work of art you'll be proud to display.
Ideal for your small houseplant, it's less than 5" tall and wide. A drainage hole prevents soggy soil and the attached saucer protects your table.
White Ceramic Pots
Give your house plants instant continuity by pairing them in this Set of 2 White Ceramic Pots
.
Made of glazed ceramic with a ribbed design, these stylish planters blend seamlessly with your style -- whether it's contemporary, country-chic or traditional.
Blue Ceramic Planter
Slip a small plant into this Blue Ceramic Planter
.
Hand-thrown of durable earthenware clay, this pottery planter is glazed in a beautiful two-tone blue coat. Practically a work of art, it's sure to get attention any where you place it. You'll treasure this handmade pottery for many years. It makes a welcome gift too.
Ceramic Pots with Bamboo Stand
Elevate your succulent houseplants to a new level. Use this set of 3 Ceramic Pots with Bamboo Stand
to give houseplants fresh new style.
Just think -- you can squeeze more plants onto a table, or on your office desk with this 3-tier stand.
Succulents are hot, hot, hot right now, and this idea will showcase them in a whole new way.
Upside Down Planter
Give your plants a lift and add color to any space with the upside down hanging planter
.
Smart space-saving pots hang from the ceiling and are watered from the top with a water reservoir.
Ideal for trailing plants


Includes hanging hook and wire
French Postcard Planters (Set of 3)
Handsome Parisian Postcard Pots
lend instant continuity to your smallest plants, wherever you display them.
Made of white ceramic with drainage holes in the bottom. The French postcard design adds a debonair touch to these pots. They only look like you picked them up at an antique market in Paris.
White Daisy Porcelain Planter
This small Daisy Shaped Planter
is one of my favorites.
Made of fine white porcelain, it's refined and elegant, complementing any plant without upstaging it. Place it on a plant stand or small table...it fits in beautifully anywhere.