Indoor Herb Garden Kits

Herb garden kits offer everything you need to plant an herb garden indoors.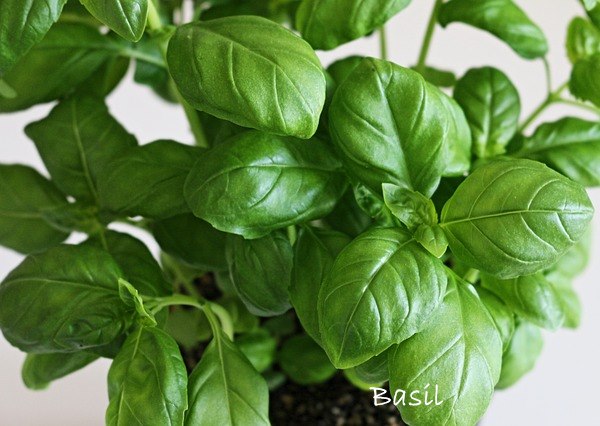 Basil is easy to grow indoors, near a window or under a grow light. Photo Credit
Whether you choose a kit with seeds or live herb plants, all you need to do is water and watch it grow. How easy is that?

Okay, you also need to provide some sunlight. Choose a warm, sunny windowsill in your kitchen. That will give them the light they need, as well as keep your fresh culinary herbs handy for cooking.
Herb Growing Tips
Place your herbs near a window. Most herbs thrive with at least 6 hours of direct sun a day. If you don't have a sunny spot, artificial light works just fine.
Also, check the soil for water at least a couple times a week. Growing herbs are thirsty. And if there are several plants in one container, water is used up faster than with one plant per pot.
Perfect for beginners, herb kits take the guesswork out of what to grow, how to plant, which soil to use, etc. They get you started with a few popular herbs that are easy to grow.
They're space-savers, too. Kits allow you to pack a lot of herbs in a small space. Another benefit is that the plants are grouped together, helping them to maintain the humidity they need to thrive.
Even if you plan to plant an herb garden outdoors, you can get a jump on the season by starting them with an indoor herb garden kit.
Disclosure: Guide-to-Houseplants.com participates in affiliate programs. If you make a purchase after following the links on this page, I may receive a commission at no extra cost to you.
Herb Garden Kits For Sale
Indoor Herb Starter Kit
This Culinary Indoor Herb Garden Starter Kit
comes with everything necessary to grow and enjoy culinary herbs.
You get a variety of culinary seeds: Basil, Oregano, Parsley, Thyme, Sage, Chives, Garlic Chives, Arugula, Cilantro, Mustard and Rosemary.
Seed trays with greenhouse domes helps retain heat and moisture, creating the perfect seed-starting environment.
Made from sphagnum peat moss, the pellets are a rich, high-quality growing medium that is healthy for your plants and minimizes transplant shock and root damage. Step-by-step how-tos included.
Aerogarden
Short on space? This AeroGarden Black Harvest Hydroponic Indoor Herb Garden Kit
fits right on your kitchen counter, keeping your herbs within easy reach for snipping.
You'll get seed pods for your cooking favorites -- Genovese Basil, Curly Parsley, Dill, Thyme, Thai Basil and Mint -- plus a bottle of all-natural plant nutrients.
And the full-spectrum LED lighting system is specially made for optimum herb growth, any time of year. Lights automatically turn on and off so you hardly have to lift a finger.
Makes a welcome gift for any gardener or cook you know.
Windowsill Garden Kit
Make every dish better with a dash of basil and a sprinkling of chives. Garden-fresh herbs are just an arms-length away when you grow them on your windowsill.
This 9 Herb Window Garden
includes seeds of basil, oregano, chives and more -- ready to sow in 9 reusable pots. You'll also get nutrient-rich soil and how-to instructions.
Tabletop Garden
Getting started with herbs has never been easier.
The Compact Tabletop Garden Starter® Grow Light Kit
(shown here) makes growing your favorite kitchen herbs a cinch.
This ingenius light fixture fits right on your countertop, where you can harvest a small crop of herbs, small salad greens, or even keep your small flowering plants in bloom through the winter.
The kit includes seed starter trays, organic seed starting mix, a power strip with timer and more.