Fragrant House Plants
Perfume every room with beautifully fragrant house plants.
With some indoor plants, you get more than showy blooms. Choose a scented plant, and you'll add a delightful fragrance to any room.
Florist shops are bursting with fragrant house plants, such as sweetly scented lavender, lily of the valley and gardenias.
Hyacinth is among the first to pop up in the spring garden. However, you don't have to wait to enjoy their aromatic flowers. It's easy to force hyacinth bulbs into bloom early and enjoy them midwinter.
Although light-bloomers, no plant can match scented geraniums for beautiful aromas of rose, peach or peppermint. Pot some up for your sunny window or patio and enjoy them all season.
Tropical Scented Flowers
'Sharry Baby' is a sweetly scented Oncidium orchid. Oncidiums are often referred to as "dancing lady" orchids because of the way their shapely blooms move in a breeze. Give these dancing sprays of flowers plenty of light and they'll bloom dependably for you.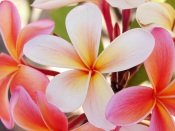 Beautiful fragrance, along with its charming "pansy" faces, make pansy orchids delightful to grow. Fortunately, these South American natives are also among the easiest indoor orchids.
Plumeria (shown at right) is an aromatic flowering shrub, covered with fragrant flower bouquets all summer through fall. These tropical shrubs are a common sight in Hawaii, where the fragrant plumeria flowers are used to make flower leis.
Aromatic Herbs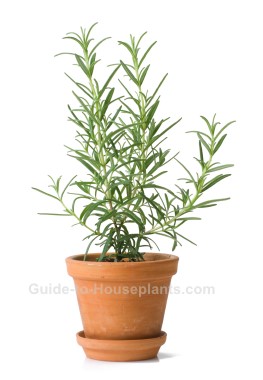 Spice up your kitchen with small pots of rosemary, oregano, basil...choose whichever culinary herbs you like to use.
Imagine snipping fresh herbs right in your kitchen.
Rosemary (shown here) is an easy-to-grow herb. You'll want to trim it often to keep its shape. Put it on a sunny windowsill for the best growth and flavor.
Don't have a sunny spot? Herbs grow well under fluorescent lights, too.
Fragrant Vines
Keep Hoya Plant (shown at left) in a sunlit window and you'll enjoy its sweetly scented flower clusters for months on end.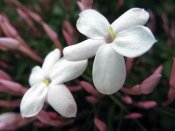 Add beautiful fragrance to any room with Jasmine (at right). Train this climber on a trellis to display its starry white flowers.
You'll probably want to put magnificent Angel Trumpet Plant on your sunny patio for the summer to give it plenty of blooming power. Its intoxicating fragrance is also alluring to butterflies and hummingbirds.