Rare Tropical Flowers
Tired of the tried-and-true? Give one of these rare tropical flowers a whirl.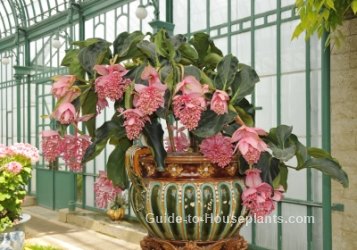 Showy Medinilla
Medinilla magnifica is one of the most elegant flowering plants you'll find anywhere.
This tropical native likes plenty of warmth, light and humidity. Give it what it wants and you'll enjoy magnificent clusters of rosy pink flowers in spring and summer.
Jewel Orchid
Of all the orchids we love to grow, jewel orchids are among the easiest to please indoors.
Dark, velvety leaves with silver pinstripes make them stand out from other orchid species. The tall creamy white flower spikes that appear in winter are merely an added attraction.
Spider Lily
Spider lily bears fragrant, white flowers with long, slender segments that radiate from the center, giving the whole bloom a spidery look.
Give this lesser-known member of the Amaryllis family plenty of light throughout the growing season and you'll find it is a joy to grow indoors.
Tropical Cactus
You'll recognize the orchid cactus as a relative of the winter-blooming Christmas cactus. Its succulent, segmented stems look just like the holiday favorite. However, this beauty blooms in spring -- and those flowers are spectacular!
Somehow orchid cactus is more elusive than its cousin, but well worth seeking out.