Jade Plant
Botanical Name: Crassula ovata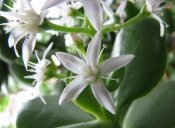 A popular house plant, Jade Plant care is easy.
Its tree-like woody branches are covered with shiny, plump, spoon-shaped green leaves that are sometimes tinged in crimson.
Plants that are several years old may produce clusters of white, star-shaped flowers if given enough sun.
Native to South Africa, this many-branched, succulent shrub tolerates the dry environment of warm, heated homes well.
This South African succulent doesn't need much attention at all. Just put it in a bright location. Wait till the top of the soil is dry before watering because succulent plants store water. It branches naturally, so it doesn't need pruning.
Buy Jade Plant
Slow-growing, it only needs repotted when it outgrows its container, probably every 2-3 years. Put your plant in a heavy container to help balance its weight -- it can get top-heavy. Also, be sure to use a container with a drainage hole to keep the soil from getting soggy.
Jade plant problems are few. Watch for mealybugs -- the white, fuzzy bugs that attach themselves to the leaves and stems. A wilted plant could be a sign of an infestation. However, overwatering could also cause wilting.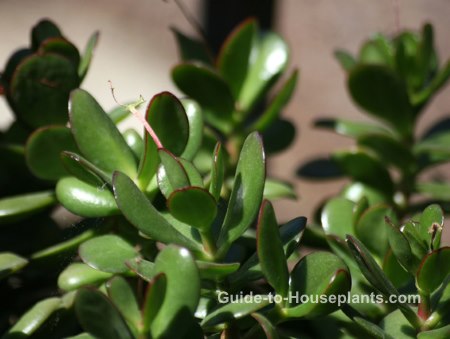 Jade Plant Care Tips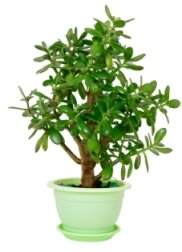 Origin: South Africa
Height: Up to 3 ft (90 cm). When grown as a bonsai, jade plant only reaches 1 ft (30 cm) or less.
Light: Bright light with some direct sun.
Water: Allow soil to dry out slightly between waterings. Dropped leaves or brown spots on leaves are signs that the plant needs more water.
Humidity: Average room humidity. Will tolerate dry air.
Temperature: Average room temperatures 60-75°F, 15-24°C
Soil: 2 parts peat moss-based potting mix and 1 part sharp sand or perlite.
Fertilizer: Feed monthly from spring through fall with a balanced liquid fertilizer diluted by half. Do not feed in winter.
Propagation: Take leaf cuttings or stem cuttings in spring. Allow cuttings to dry out for about 5 days (to prevent them from oozing sap) before potting them in moist potting mix.