Goldfish Plant
Botanical Name: Columnea gloriosa and hybrids
Goldfish Plant in 6" Hanging Basket
Goldfish plant gets its common name from the long, tubular orange-red flowers that look like leaping fish.
This is a perennial and will last for several years with good care. Long stems can reach up to 3 ft (90 cm) and are densely covered with thick, waxy, dark-green leaves.
Put this exotic trailing plant in a hanging basket or on a pedestal table to show off its spectacular foliage and blooms.
Get the most blooms. You can expect dozens of blooms on mature plants in spring and summer. Some plants may also bloom at other times during the year. You'll get the most blooms by providing plenty of bright, indirect light. Keep the soil slightly dry in the winter to help promote heavy flowering in spring. Just be careful not to allow the soil to dry out completely.
Pinch your plant. Pinch off the growing tips often to encourage branching. You'll be rewarded with a much nicer-looking plant that is compact and bushy. It's a good idea to keep the stems at 12-18 inches (30-45 cm) to prevent it from getting leggy. If you want, you can propagate the stem tip cuttings for more plants.
To repot...or not? This one likes to be slightly pot-bound, and blooms best this way. Repot in spring when it has outgrown its pot. Always use a container with drainage holes to prevent soggy soil.
Goldfish Plant Care Tips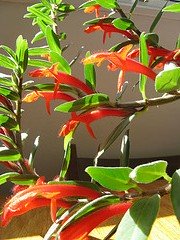 Photo courtesy of Kevan
Origin: Central and South America
Height: Stems may grow up to 3 ft (90 cm) long if not pinched back.
Light: Goldfish Plant needs plenty of bright light to bloom. Keep out of direct sunlight.
Water: Spring through fall, water thoroughly and allow the top 2 inches (5 cm) to dry out between waterings. Water less often in winter, allowing the soil to become almost dry between waterings.
Humidity: Moderate to high humidity. Use a room humidifier or a humidity tray to maintain moist air. Mist foliage every day -- use room-temperature water because cold water will cause brown spots on the foliage.
Temperature: Average room temperatures 65-75°F/18-24°C
Soil: Peat moss-based potting mix.
Fertilizer: Feed every 2 weeks spring and summer with a high-phosphorus liquid fertilizer (such as 10-30-10) diluted by half.
Propagation: Take 4 in (10 cm) stem tip cuttings (without flowers) in spring or summer.