Seed Starting Trays

Seed starting trays are essential if you want to propagate seeds indoors. Many sizes are available to accommodate a few plants -- or a big garden. In short, you have a lot to choose from.
Most seedling trays -- also called germination trays -- have small compartments for keeping seedlings separate. This makes it easier to transplant the seedlings to your garden, or a larger pot, without cutting through their roots.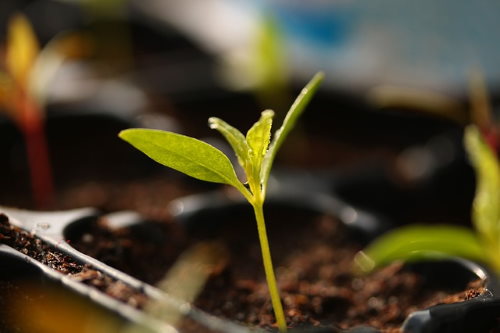 Germinating seeds is a breeze when you use a seed starting tray and a quality mix.
Garden Starter with Grow Light
Give seedlings plenty of light for good growth.

If you don't have window space to give up for your seed starting trays, the Compact 2-Tier Garden Starter® Grow Light Kit
will give your indoor garden the right kind of light it needs.
You'll also get the quick-start kit with watertight trays, two 24-cell trays, organic seed starting mix, plant markers and power strip. Clear covers maintain optimum humidity for your plants. Made of recycled plastic, the trays are reusable, too.
This small grow light system will fit in just about anywhere. Just plug it in and start growing.
Biodegradable Cowpots
Another earth-friendly wonder!
The 2-3/4" Square Cowpots 6-Packs, Set of 4
makes growing and transplanting healthy seedlings a breeze.
You'll reduce transplant shock by planting the pots directly in the ground.
These biodegradable cowpots will dissolve within weeks of planting, providing your seedlings with the organic nutrients they need to grow healthy and strong.
Organic Seed Starting Trays with Kit
Getting started is quick and easy. Get the Organic GrowEase Seed Starting Success Kit
.
You've got everything you need right here: two heavy-duty, reusable 24-cell GrowEase trays, 6 qts. of organic seed starting mix (a special blend that stimulates seedlings, and nutrient-rich so there's no need to fertilize until you transplant your seedlings) and 24 seedling markers.
Your seedlings will thrive with the water reservoir, watering your seedlings just when they need it.
Imagine the money you'll save by starting your own seeds. And this easy kit has everything you need to succeed. Just add seeds.