Pedestal Plant Stands

Pedestal plant stands offer a simple, elegant way to show off your trailing vines, sprawling ferns or flowering plants.

Square Column Plant Stand
Display your trailing English ivy or creeping fig with distinction. This handsome Column Pedestal
has a small footprint, allowing you to put it anywhere you want to add instant style.
It is crafted from wood with faux-metal inlays and stained with a beautiful dark finish. This distinguished piece has a museum-like quality that you'll be proud to display in your home.
Traditional Hall Stand
Make a statement with this Hall Stand
. The epitome of elegance, this table, fashioned in Old World style, flatters any house plant with panache. Made of solid wood, including a drawer with brushed nickel hardware.
Place your favorite plant on it and give this stand a place of honor in your living room, bedroom or home office.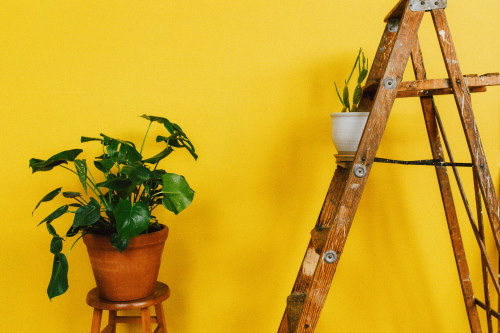 Need a better way to display your houseplants? Photo by Liana Mikah on Unsplash
Display Ideas
Pedestal plant stands make easy vertical accents in living rooms and dining rooms.
Topped with your favorite ferns or leafy trailers, they bring color and life to a bare area, and help to balance tall plants and furniture in the room.
Move small plants around now and then to change the look of a room. Replacing a Boston fern with a bright, tropical bromeliad gives a pedestal a whole different feel.
Mission Plant Stand
Made of solid wood, this Mission-Style Plant Stand
lends an air of timeless craftsmanship that's sure to get attention.
With the hallmarks of masterfully designed and crafted piece of furniture, this is a table that's built to last. It's a classic you'll enjoy for a lifetime, at a price you can live with.
Round Pedestal Plant Stand
Show off an exotic house plant high atop this Round Plant Stand with Curved Legs
.
Made of wood construction with a warm cappucino finish, this contemporary pedestal fits beautifully in any room.
Consider Color
Pedestals raise your plant up for all to admire. Make your plant stand out even more by choosing one that contrasts with the wall color. This effect is not only eye-catching, it helps to make a large room feel cozier. Likewise, plants that coordinate with the room color will help the room seem larger.
Round Pedestal Table
Classically styled, this round Wood Accent Table
makes an elegant addition to any room. Just a scant 14-inches wide, you'll find lots of places to display this timeless pedestal table.
Made of solid wood and stained with dark cherry finish, it's stunning all on its own. Imagine your favorite houseplant atop its round table.
Protect Your Stand
Prevent water from dripping onto your stand by putting a waterproof saucer under the container.
Better yet, slip the pot into a decorative cachepot. It doesn't have drainage holes, so you don't have to worry about staining your plant stand. It's a good idea to put a layer of pebbles in the cachepot to keep the plant from sitting in the drainage water.