Indoor Watering Can

Need an indoor watering can? You'll find a variety here to suit your house plants -- and your style. Choose from plastic, copper or stainless steel. You have many decorative watering cans to pick from. Like Danish Modern? Whimsical? Vintage charm? You're sure to find just what you're looking for here.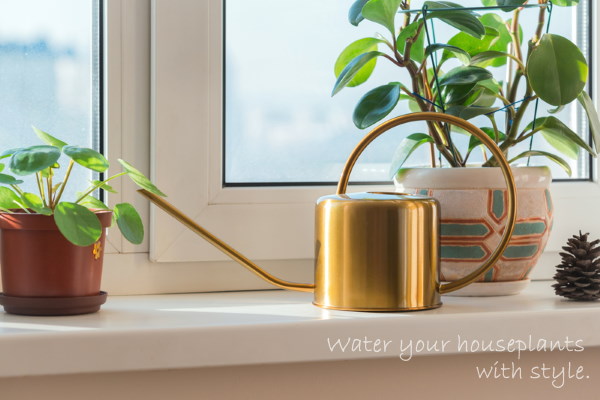 Here's a stylish watering can you won't want to put away. Photo © Olha Kryvosheieva
Disclosure: Guide-to-Houseplants.com participates in affiliate programs. If you make a purchase after following one of the advertising links on this page, I may earn a commission at no additional cost to you.

Small Indoor Watering Cans
Plastic Watering Can
IKEA Watering Can
This stainless steel and plastic watering can (shown at left) is rust-proof and durable with superior craftsmanship so it's made to last. What I like best about it is the long, narrow spout that pours directly where I want water, without any spills.
Clear enough to see the water line, this modern-style indoor watering can is made of light-weight plastic. And you'll love this -- the round handle gives you easy control.
Want something stylish? Showy yet small, the watering can at right is easy to keep close at hand, while adding contemporary style to plant care. Crisp and sleek -- and ideal for giving your smallest house plants a drink.
Beautiful Metals...Copper, Stainless Steel and Brass
The hammered Stainless Steel Watering Can
(shown here) makes all your indoor watering chores, well...less of a chore. You'll actually enjoy reaching for it when it's time to water.
Heirloom Quality
Just about the finest quality you'll find anywhere -- this Haws Mini Watering Can
is one you'll treasure for many years.
Made in the Old-World tradition with fine craftsmanship you can appreciate.
The copper ages to a rich, warm patina, giving this classic indoor watering can more charm the longer you use it. It's sure to become a family heirloom.
A Touch of Brass
Don't settle for ho-hum. This classy watering can is one you'll love using...and you won't want to hide it away when you're done. Find a place to display this elegant beauty in your home.
Perfect for your indoor plants, Precision Brass Watering Can
holds about 3 and a half pints of water. You'll also appreciate the long spout that reaches directly where you want to water.
Made of solid-brass, it's a quality watering can that will stand up to years of use.
Decorative Watering Cans...Splashy and Just Plain Fun
A Mouse for Your Houseplants
Give your home or porch a touch of whimsy with this Mouse Watering Can
.
Crafted of hammered steel, this mouse is practically a work of art. Mouse ears and whiskers give it personality. Go ahead and use it -- it's fully functional with a rust-resistant finish.
Go Retro
Dashing in a vintage style, this small Retro-Style Watering Can
(at left) adds a splash of color to your watering chores.
Don't like red? It's available in many more colors.
Watering Tip
Don't water on a schedule. Watering every Monday may be convenient for you, but it could dry out -- or drown -- some of your plants.
Instead, check the soil of your potted plants. And, don't assume they have the same needs for moisture. Each plant, type of soil, and pot that it's growing in varies, and so does the amount of water needed.
The only sure-fire way to maintain the right amount of water is to get to know your plant's specific needs.
Handcrafted in England, this Haws Mini Watering Can
is a pint-sized version of the Haws classic.
The long, slash-tip spout allows for drip-free pouring. The powder-coated finish protects it and makes it shine.
This is truly a good value for such a high-quality watering can that you'll actually enjoy using. (Just don't overwater your plants!)