Hanging Terrarium

Want to add fresh, breezy style to a room? Try a hanging terrarium. With these suspended planters, you can easily give your indoor plants a new look, while avoiding a cluttered grouping of plants on the coffee table.
Hang a few mini terrariums together and you've added a captivating dimension to a room at eye-level. These living sculptures add eye-catching textures and pops of green that is sure to capture attention.
Disclosure: Guide-to-Houseplants.com participates in affiliate programs. If you make a purchase after following a link on this page, I may receive a commission at no additional cost to you.
How to Care for Your Hanging Terrarium
Keep in mind your plants will thrive only if there is sufficient light. Hang your little terrariums near a window, but away from direct sunlight. Glass will magnify the sun's rays and damage tender tropicals.
Whether growing in pebbles, sand or moss, you want to keep the roots moist at all times.
Growing air plants? They're not planted, so you can take them out of the terrarium to water. Thoroughly wet the plant with room-temperature water, then return it to its terrarium. Avoid leaving standing water at the bottom of the terrarium because the roots will rot if kept too wet.
Because their roots are so small, air plants take in moisture and nutrients through their leaves. Feed them with a foliar spray fertilizer specially made for air plants
.
That's it! Care is easy. Your plants will flourish, nestled in their humid environment.
Hanging Terrarium Kits
The Air Plant Terrarium Kit with Metal Stand
(shown here) comes with everything you need for your little garden globe: 2 beautiful Tillandsia plants amidst shimmering black and silver pebbles in a 5" glass terrarium. The black metal stand makes displaying easy.
Keep it near the kitchen sink, where you'll never forget to water. It makes an easy office plant, too. Take it to work and get ready for the compliments.
Floating Orb Terrarium Kit
Put your terrarium together in minutes with this super-easy Floating Orb Terrarium Kit
.
Kit includes white rocks, soil, preserved moss, twine, and a glass terrarium. All you need are the plants.
These terrariums look spectacular when displayed together.
It also makes a great gift -- even for those who profess they can't keep plants.
Sunlight Tip
Keep your hanging plants out of hot, direct sunlight. Your tender tropicals can't take the heat.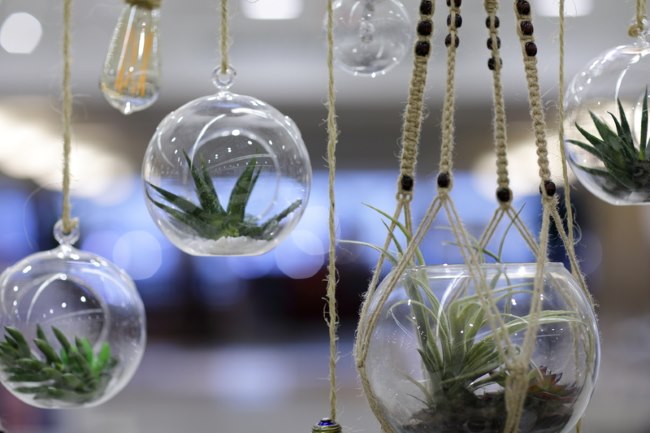 Hang a few terrariums together for a spectacular display. Photo credit ©Feliz Mizioznikov
Glass Terrarium
Already have air plants?
Give humidity-loving tropicals a new home in hanging glass terrariums. Display your own small air plants in an eye-catching bubble for all to see. They look even better with 2 or 3 together.
Made of crystal-clear glass, they give your plants all the light they want.