Parrot Flower
Botanical Name: Heliconia psittacorum
Parrot Flower -- also known as Parrot Plant -- is an exotic flowering plant native to Brazil.
H. psittacorum is a member of the banana family. Its huge, deeply veined green leaves grow along narrow vertical stalks. Tall, upright stems carry spectacular orange and red bracts with yellow-to-orange flowers, often tipped with dark green. The flowers look like a parrot's beak, giving the plant its common name.
A prolific bloomer, you can expect exotic flowers repeatedly in spring and summer. If your Heliconia plant doesn't bloom much, it's not getting enough light. Move your plant to a sunny window or put it outside when the weather is warm. It'll be fine as long as the temperature doesn't dip below 55°.
Cut off spent flower stalks to encourage more flowers.
Repot in spring every 2-3 years or when your plant outgrows its pot. Use a large, heavy container to prevent toppling -- this plant can get top-heavy.
Low air humidity may cause brown scorch marks on leaves. Mist a few times a week with room-temperature water. Misting also helps to prevent spider mites that love dry conditions. Watch for their webbing between leaves, a tell-tale sign of an invasion.
Parrot Flower Care Tips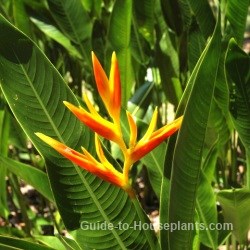 Origin: Brazil
Height: 3-4 ft (.9-1.2 m) tall indoors
Light: Bright light to direct sun
Water: Keep soil evenly moist year-round. Do not allow soil to dry out.
Humidity: Moderate to high humidity (50-60% relative humidity). Take a look at these easy ways to raise the humidity for house plants.
Temperature: Average to warm 65-80°F/18-27°C days. It will tolerate nighttime temperatures as low as 55°F/13°C
Soil: Peat moss-based potting mix, such as African violet potting mix
.
Fertilizer: Feed every 2 weeks in spring and summer with a 10-10-10 liquid fertilizer diluted by half. Do not feed in fall and winter.
Propagation: Division of rhizomes