Large House Plants
Large house plants are excellent for creating big impact in a room. Tall house plants can make a large space feel cozier, especially when placed around a seating area. Or, they can soften an entryway and make it more welcoming.
Most rooms have space for at least one large house plant. Of course, you don't want to overwhelm a room with plants that are too big for it, or the space will feel crowded. It's a good idea to use bigger, bolder plants in a large room to add height.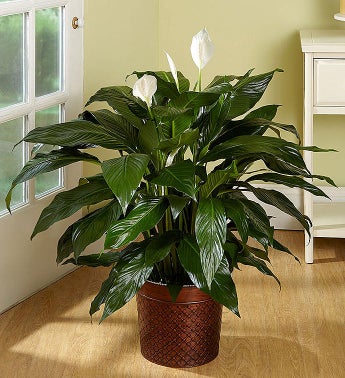 Big Ideas and High Ideals
Large tropical house plants -- those that grow 5 ft or higher -- are ideal for adding instant drama to any living space.
Spathiphyllum (aka Peace Lily), shown here, is one of the easiest flowering plants you'll ever grow.
Some, such as schefflera, swiss cheese plant, and split-leaf philodendron, may need to be staked.
Tropical bird of paradise is a large leaf house plant that makes a statement wherever you put it. This evergreen is gorgeous year-round, even when it's not in bloom. However, the blue-and-orange flowers that appear in summer are simply spectacular.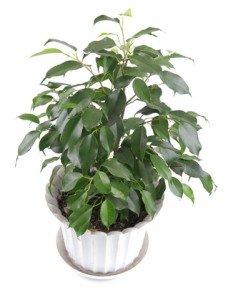 Noteworthy Figs
Tall house plants often have a treelike habit, such as a weeping fig (shown here), a rubber plant, or a fiddle leaf fig.
All three from the ficus family make excellent indoor house plants because they adapt well to average temperature and lighting conditions in the home. Some newer hybrids are variegated, giving them even more decorative interest.
Cat Palm Floor Plant for Sale
Palms, Pines and Plumeria
Indoor palm trees are among the most popular indoor plants, and with good reason. Generally low-maintenance, these large palm trees grow best in indirect light and look especially beautiful when used to fill a corner.
Norfolk Island pine is easy to find in floral shops around Christmastime. This tropical pine is typically low-cost, so even a larger, older tree won't break the bank. Its strong horizontal lines make a stunning contrast in a large, open room.
Also called frangipani tree, plumeria grows quite large. Because this beautiful flowering tree prefers warm temps and high humidity it can be hard to please in many homes. However, if you can meet its needs, you'll enjoy heavenly fragrant flowers from summer through fall.