Flower Bulb Catalogs
Whether you force bulbs indoors or want to plan your flower garden, flower bulb catalogs will help you to dream, plan and make your garden a reality.
Catalogs are the perfect way to discover the newest varieties of tulips, daffodils, crocus and other beautiful flowering bulbs.
Flower Bulb Catalogs
Looking for spring-blooming bulbs? Get top-quality Burpee Flowering Bulbs
. You'll find a big selection of beautiful tulips, crocus, daffs and more.
DirectGardening.com
offers a huge variety of tulips, hyacinths, grape hyacinths, daffodils, crocus and irises for fall planting.
Why Flower Bulbs?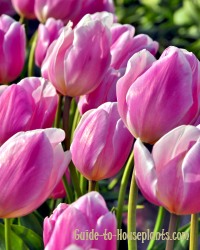 Few other plants are as easy to fit into a garden as flower bulbs. Squeeze them into any sunny bed or border for an early show of color. Or, let them mingle with mid-season blooms, filling in a young garden. You can even plant spring bulbs under trees because many bloom before the trees leaf out.
Add a burst of color to your porch or patio with crocus, tulips or lilies potted in containers. Once the blooms have faded, replace them with your favorite annuals for constant color throughout the seasons.
Bulbs for Forcing
Want to force bulbs indoors? Look for flower bulb varieties labeled "good for forcing" to ensure success.
Many bulbs -- hyacinths, crocuses, tulips -- can be forced indoors, where their beautiful flowers can be appreciated up-close. Some bulbs need to be chilled for several weeks before they'll grow and bloom. It's easy to do and the results are worth it.
Paperwhites, freesia and amaryllis bulbs are easy to grow -- no chilling required. Although their bloom time is only a few weeks, their flowers are magnificent and are sure to add cheer to any room.